If you happen to be working on a sweater or other garment, here are some more tips to help make your journey a smooth one.
We already discussed ease and choosing the size and shape of sweater that's right for you. Now, to make sure your sweater actually turns out the size that you planned, your gauge must be right on target.
Getting the Right Gauge
I know, I know – groan, groan. You don't have to do it all the time, but when you invest this much money and time into a project, you should make sure it fits. Make a quick gauge swatch and measure it to see what your gauge is. It must match the gauge specified in the pattern.
If you are knitting your sweater in the round, make sure you make your gauge swatch in the round. Many people purl more loosely than they knit, so if you're not going to be purling on your sweater, you don't want any differences in tension messing up your gauge swatch.

Choosing the Right Color of Yarn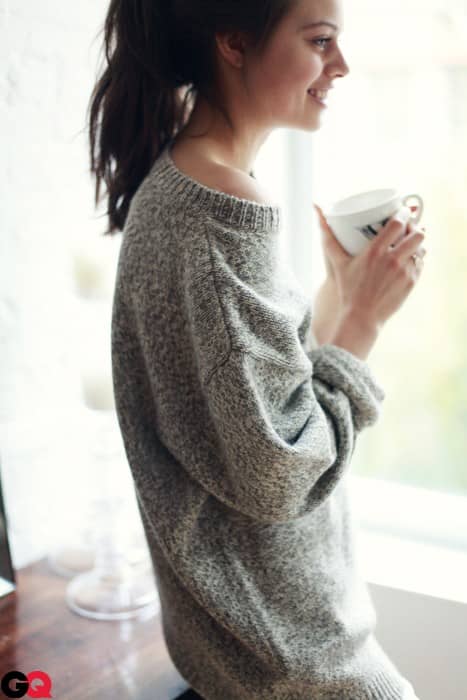 When I chose my first sweater pattern, I fell in love with the picture on the pattern booklet. A stick-thin waif, hands dangling over her head, posed in a
huge, baggy, cream-colored sweater
, amidst a flock of sheep.
"That's what I want!" I said, and promptly bought 10 balls of Brown Sheep Bulky Superwash in a sort of oatmeal color.
Unfortunately for my sweater experience, I am neither a stick-thin waif, nor does oatmeal color look good on me. A recipe for disappointment, for sure.
Learn From My Mistakes!
I know this sounds obvious, but it's not. Take the time to choose a color of yarn that actually looks good on you, not necessarily the color that the model is wearing in the pattern. Again, just look at the sweaters that you already wear. Think about your favorite colors. This is the time to play it safe.
You can also hold a skein of yarn up to your face in the mirror at the yarn store to help you decide which of two colors would look better. Just hold it up next to your skin.
Bring someone along that you trust and that has a great fashion sense that can help you pick out the right color of yarn. Remember, if you're spending $50.00 to $100.00 on the raw materials for your sweater, you want to choose yarn that look good on you.
Next: as promised, my disastrous first sweater.